Steve & Tosha Godbold
Desert Missionaries
---
Maintainence in not like it is in North America. It usually requires ingenuity and reliance on God. Here is an excerpt from a recent letter received from Chad. It should impress upon you the need for people in Chad who can handle unusual situations.
---
Back in Ndjamena we prepared for the arrival of the Ortmans and our next trip across the desert. This time the Ortmans were to drive Dad's truck, the Land Rover. Mark Ortman did a great job driving through the desert for the first time. However, we had difficulties with the Dodge. Just before the sand desert we lost third gear. We decided to limp along rather than turn back. Three hundred miles later the clutch disk broke and the truck wouldn't move another inch. What do you do when you're broken down in the desert with two families (12 people). A desert of 120 degrees heat, 50 mph winds that pick up the sand and hurl it at you all day long and you are 6-8 hours away by foot from the nearest well?
The most important thing is we trusted God and we prayed. We were thankful we had another vehicle that was in good working condition. I remembered seeing some wrecked Dodge trucks in a junk yard in Bardai, another 2 days of driving away.
We hoped we could find a transmission and clutch disk that would fit. Mark volunteered that he and his two oldest children, Jessica and David, would stay with the crippled Dodge while I took the ladies and remaining six children on to Bardai. We divided the food and water and firewood deciding that those who stayed could survive for a maximum of two weeks. After arriving in Bardai I went to look for a clutch and transmission. I found only one. By the time I got back to Mark, Jessica and David they had been there days. That afternoon we began the repair work but a sandstorm kicked up, postponing the job until the next morning. Soon we came to the grim realization that the spare parts from Bardai did not fit our Dodge. We decided to try and modify the clutch disk and transmission to make it fit. We cut and filed, changed parts from one transmission to the other, tried to mount it, cut and filed some more until almost midnight. In the mean-time a Chadian military truck came along with some mechanical problems. They stopped right next to us and spent the night repairing their truck and coming over several times to borrow our tools. The next morning we got up at 5:30 and continued our modification work.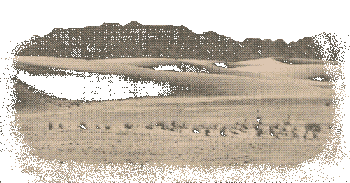 Around 8:00 we had progressed enough to try a "spin around the block". We prayed and I fired up the engine. During the short test drive everything seemed okay. Praise God. Two days later we were united with our families in Bardai. What a miracle!